Have you ever dreamed of playing in a band or having the skills to just jam with other musicians!?
Then our Bands Unite Workshop™
is for you!!!
On Saturday, January 3rd, 2015, Senchant's Art of Teaching celebrated their one year anniversary and launched their awesome performance Bands Unite Workshop™!!
Focused, productive and effective classes geared to hone your sound, technical skills and dynamics!

Work in a safe and creative environment, beautiful clean studio, real live experience, playing through professional equipment on a stage!
Meet other musicians who are eager to learn and play, adapt to new concepts, and have fun!
Pick songs you wish to play or write your own – Our professional team of teachers will create charts and lead sheets for you and your band!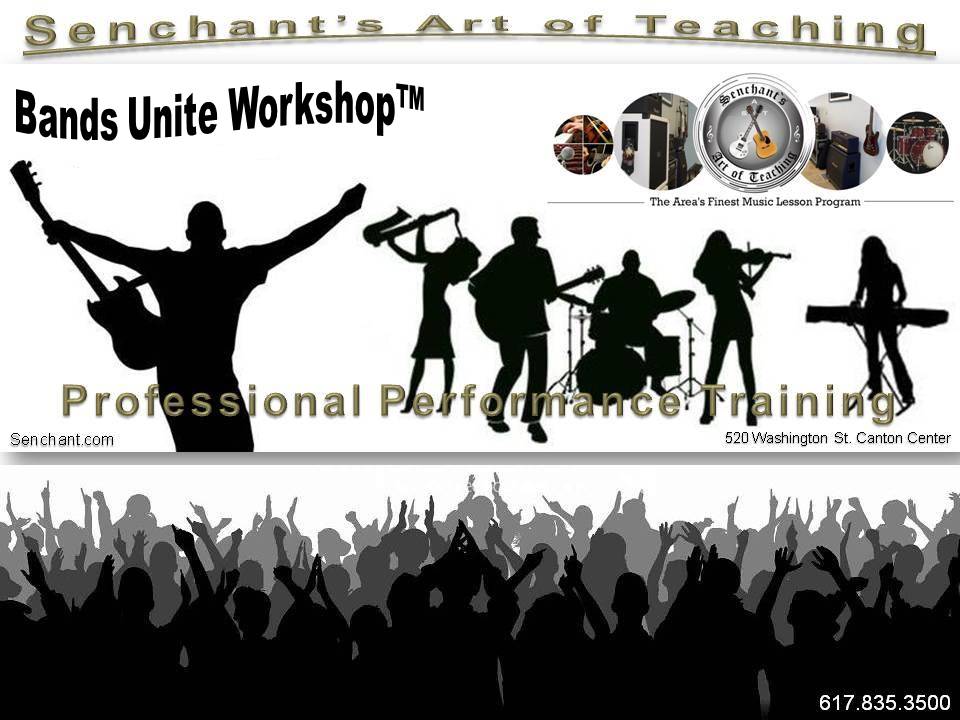 Learn the skills pros use to fine tune their sound, their band and get crowds excited!
Workshops are conducted by Bernard 'Senchant™' Birgenheier. Bernard has a long history of successfully coaching area bands, as well as consulting and building other area schools successful band programs, such as Daddy's Junky Music, Solomon Schechter Day School, Blue Hills Regional Technical High School and Sharon Public Schools. Many of his bands have won local Battle of the Bands (with original music), received large scholarships to Berklee College of Music, or other area colleges and have become skilled professional musicians!
Space is limited – Pre register today!!!
To register all we need to know is who is attending and what instrument they want to perform on! Call 617.835.3500 today or Email: info@SAT
30 min private lesson + 60 min weekly band class only $359

(Kids)

30 min private lesson + 90 min weekly band class only $419

(Adults)
Students

do not

need to be enrolled in our private lesson program ~ Call for special rate.

Tuition is prorated for mid-month signees.
Want more productive and organized rehearsals!?
Bring your band!!
Bands Unite Workshop™