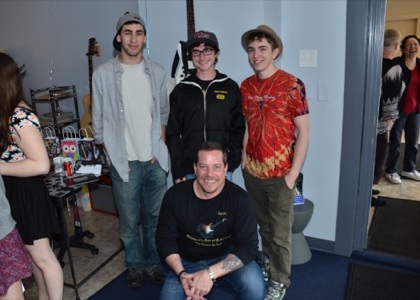 Is your graduating child looking to go to a music college!?
Senchant's Art of Teaching can help them enter and be very prepared for what is expected. I [Bernard] have taught since 1991 and opened Senchant's Art of Teaching out of passion and a need for a better music school for the public in 2014. I have been a session player from NYC to SBC since 2002. I have two degrees from Berklee, Film Scoring and Guitar Performance. As a Film Scoring Major, I can not only teach you how to play classical music, but compose in all time periods, Baroque to current. Other styles I play and teach are; Jazz, Blues, Metal, Rock, Funk, Pop, Country, Flamenco and World, such as Soukous and Kompa. I was the top paid and most versatile teacher at Daddy's Junky Music (they had the biggest and best private lesson program in the Northeast). I teach all alternate tunings, 6, 7, 10 and 12 string, (nylon to electric), and have invented my own and have several students playing in this incredible new tuning! See Mirror Tuning®. I currently have 3 former students enrolled at Berklee College of Music. All three entered with high ratings and scholarships. I have had over 20 students go to schools like Berklee and graduate with success and honors since 2010. Senchant's Art of Teaching hosts an incredibly talented team of professionals also available for vocal, piano and drum training. See them under the About Us menu.
"Unlock Your Inner Musician!"
Four 60 minute sessions only $599.00!!