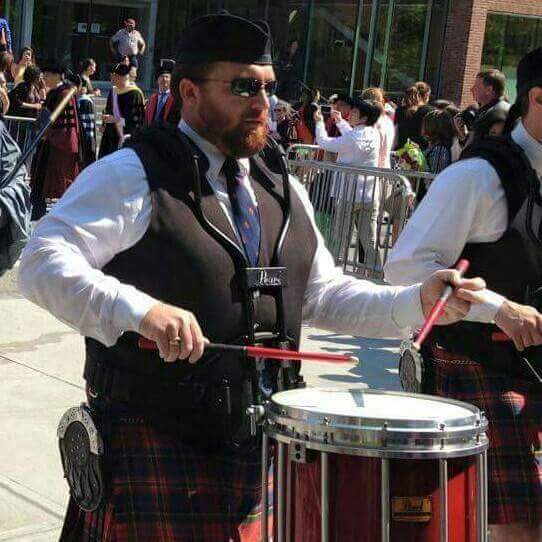 Rob began his percussion career at the tender age of 10. His decision to choose drums is two fold – just getting over childhood asthma, blowing into an instrument didn't seem like a good idea and, as 10 year old Rob put it, "chicks dig drummers." By the end of his second year, his band director sought out his mother and begged that Rob takes lessons. By the end of 8th grade, the student body voted Rob 'Most Musically Inclined.' It wasn't until seeing the high school marching band perform at a school assembly that he was hooked. The precision, the marching drums, the uniforms – enough said.
Rob continued his drumming learning new styles through marching, concert and jazz bands. He was also invited to play with Salve Regina University and Navy Band Northeast. As senior year rolled up (and yes, Rob was voted Most Musically Inclined by the student body, again) it was time to figure out what colleges to apply for. Marching band was too much fun to give up now. Decision time came and Rob decided to take his talents to Wildcat Country and the University of New Hampshire Marching Band. For four more years Rob marched field show, played concerts with the symphonic band, and traveled with the pep band. Many memories and friends were made in and off the field. Graduation loomed and Rob was faced with this question, " what now?"  He was always part of a musical group, often tied to a school. After a little research, Rob thought how he could combine his love of music and marching with his degree in History.
Fife and Drum Corps! For two years, Rob played with the Pawtuxet Rangers Fife and Drum Corps and Middlesex County Volunteers Fife and Drum Corps. Parades! Musters! Official state ceremonies! Life was good. Until a friend reached out wanting to form a band. It was an intriguing idea. Write original songs. Travel all over Rhode Island and central Mass. Sign a recording deal and make it big. Well the first two came true. For three and a half years, Bubblegum Villains recorded an EP, was nominated for Best New Band by Motif Magazine and played on the Rhode Show. After the band broke up (it only takes one band member to do this **cough** bass player), Rob was without a musical group for the first time. Then, by the suggestion of his mother to combine his ancestry and drumming, he began looking up Scottish bagpipe bands. He joined the Rhode Island Highlanders in 2011. Since then, he has competed solos and band competitions in New England, New York and Canada.
Rob lives in Rhode Island with his wife , Beth, and his two children, Isla and Gavin.