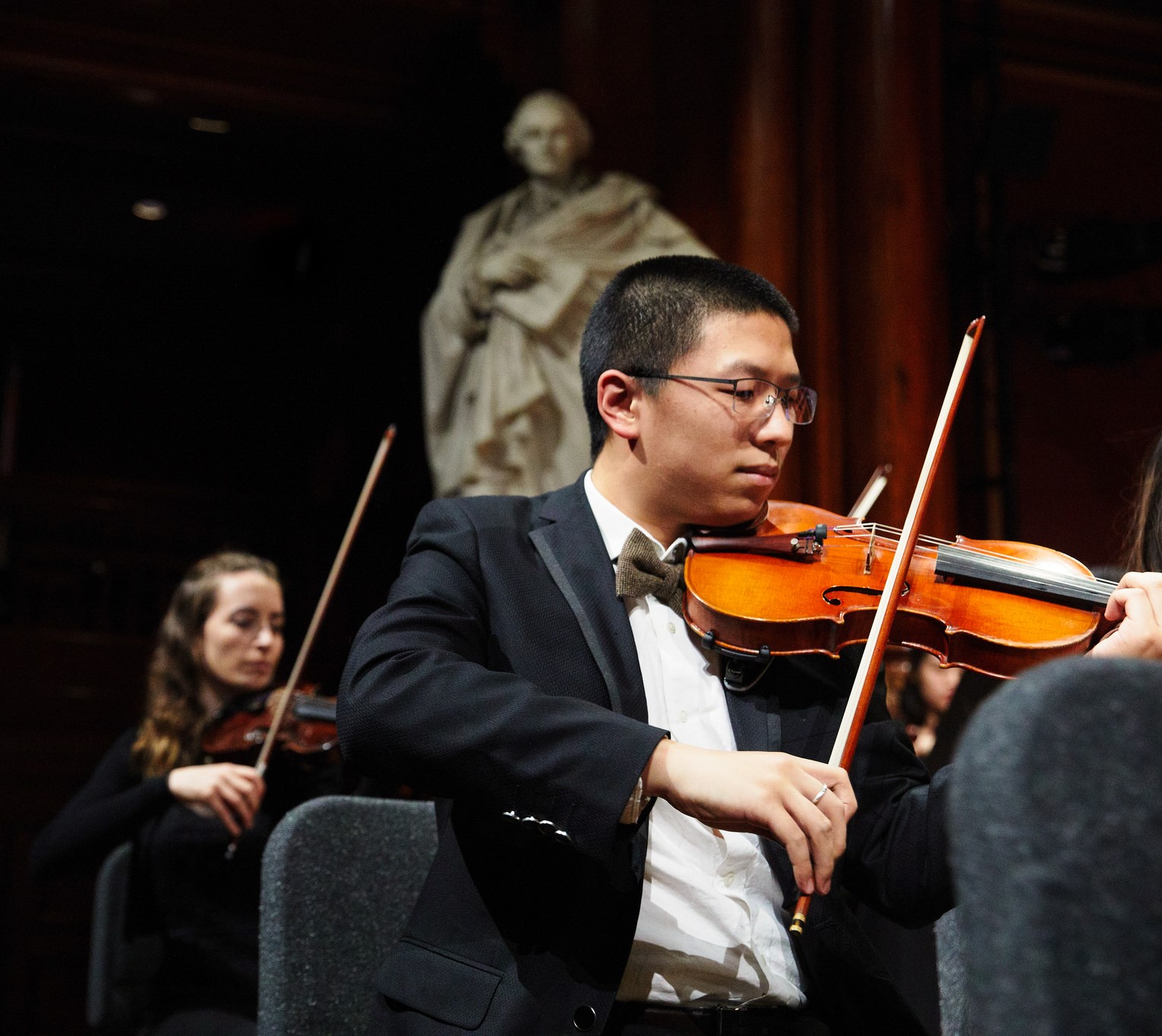 A message from Lance Zhou
-To music, to you-
"Violin is alive, just like you and me.
It is the most human-like instrument that can sing, talk, and whisper the way you want. It is a second way to express yourself other than speaking. It can be so emotional, only a stringed instrument can perform every note the way you want… feather-light and slow vibrato, or maybe sharp, bold and strong. The music is spoken through your fingertip. And with the combination of a bow, your music just got invigorated with a lung that can only speak a limited sentence. Ah, phrasing!! Breathe with your music! Your story is told through bow after bow, breath after breath, sentence after sentence. It might be long enough to be mesmerizing, or short and powerful to leave strong momentum for pondering thoughts.
Music can be complicated. But it is simple as well – never doubt that music is not that way for you.
You know when to shift when driving a manual shift car, then you know pitches of a sound. You hum your favorite tune that you listen to over and over again, you know melody. You tap to the beats of the music played in the car, and you love it – yes, you know rhythm. Even though it could be hard to learn a new instrument – but do believe, everyone is talented for music, it is the teacher who guides them that matters the most."
-About Lance Zhou-
Yang "Lance" Zhou was born in Henan, China. His family was not a musical family, but everything starts from zero.
"What would you want to learn as an instrument?"
"Violin! It is beautiful and it sounds brilliant…"
Simple as that, Lance's journey to music started at age 7, and never stopped. His family was not rich but his parents supported him with no doubt. In primary school, a combined Eastern and Western orchestra was made and toured around China. A group of violinists were united and performed in competitions, winning first prize among all in their country. During his junior school, Lance continued to study the violin and volunteered in the school orchestra. The hobby did not just end – after a year in high school, he decided to become a professional violinist and prepared for his major in this discipline. It was a hard time, but he managed to keep up his grades and committed practice. Finally, all efforts counted and his hours of dedication began paying off. Because he held very good academic scores, he was admitted into the best music school in China, Central Conservatory of Music. 中央音乐学院
In College, Lance kept exploring all artistic possibilities. Not only had he achieved high remarks from choir and conduct lesson's professor, but also earned a reputation in the conservatory's international department. His ability to communicate with foreign professors and on-stage master class translator was well received. He was given full responsibility of Boston University professors' schedule in China, and a thank you letter was received from Professor Zyzovsky. Teaming up with musicians to play chamber music is also fun and challenging. Free time during college also provided him with wide variety of interests: photography, VB coding, computer peripheral evaluation, etc.
Lance was so fascinated with classical music, and looking forward to further study. The best option was to go abroad and learn from where violin came from. With help from his high TOEFL score and well-forged violin performances, he was admitted into Boston Conservatory at Berklee with a half scholarship. His study in the conservatory was focused on pedagogy and Alexander Technique for musician. He graduated Magna Cum Laude in 2018 with a Masters of Music in Violin Performance.
"The Alexander Technique (A.T.) is an educational process that attempts to develop the ability to avoid unnecessary muscular tension by retraining physical movement reactions. Alexander believed the individual's spatial self-awareness was related to psychological conditioning; questionably trained foundation habits of posture can be unsuitably added into procedural skills."
His professor, Rictor Noren is not only a violin and viola professor, but also a professor of string fundamental and violin pedagogy. He is a Suzuki method practitioner, which believes that all children have talents, they born with equal abilities. It is the teacher who shapes them that truly matters.
During his teaching in college and pedagogy workshop in US, Lance believes that music is a subject that differs from common courses in school: it is a natural expression that we all possess since we were born. It is also the reason why we have music prodigies throughout our history, but not math prodigies or any else: Felix Mendelssohn, Mozart, etc. Music is a native culture that may not need to be learned but needs to be explored. Lance is willing to lead the exploration with his students to find their interests, personalize lessons aimed to teach clients what music they love and to build solid fundamentals of music and technique. By combining singing with violin lesson, music is accessible to everyone and easier to learn. By combining Alexander Technique, students can perform more natural without injuries to the body and remain relaxed while performing or practicing.
Yang "Lance" Zhou is also a hobby photographer and graphic designer.
See his website for recent activity: Lance Zhou