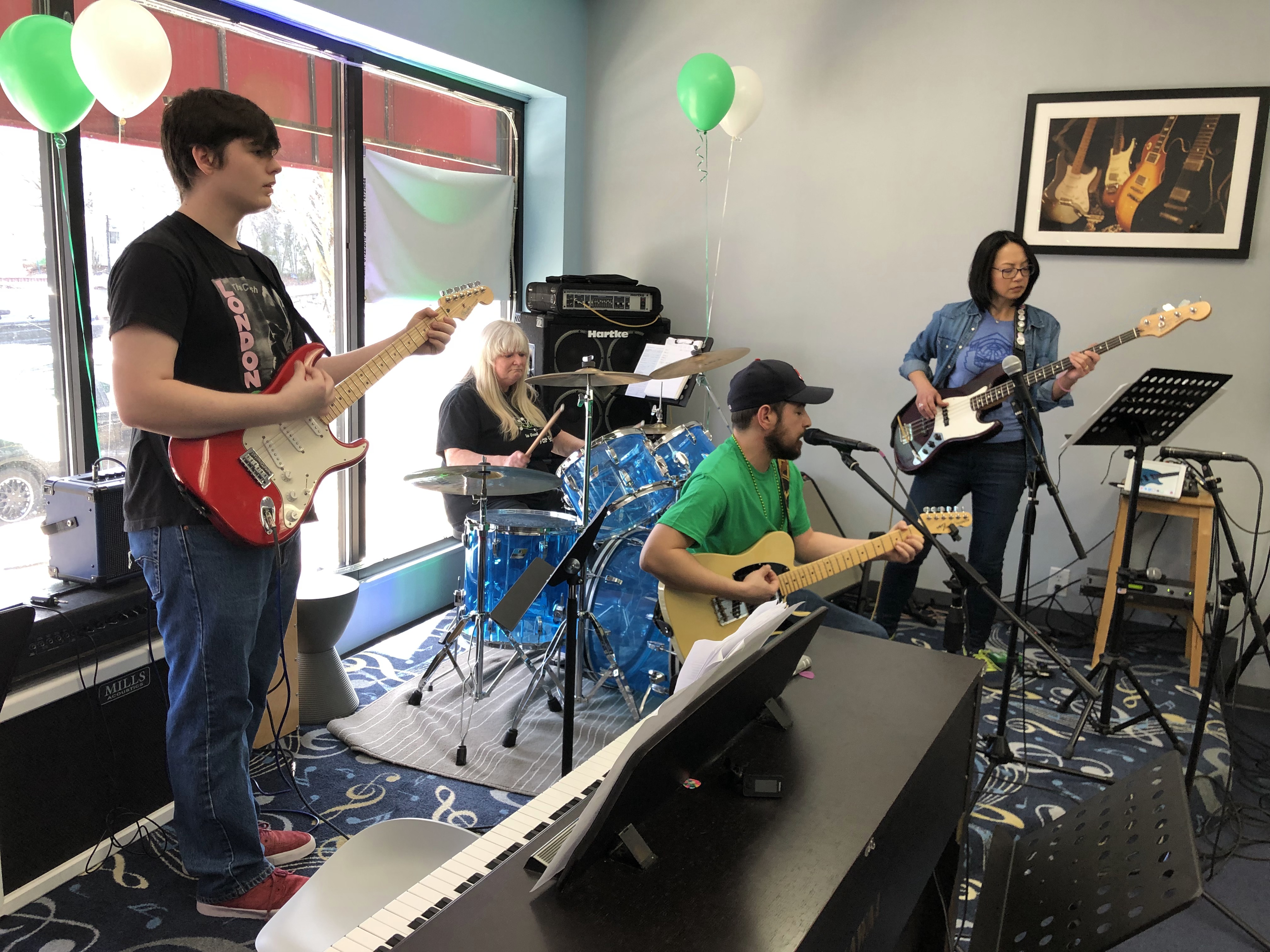 Janie was destined to be in the music business early on at the young age of 9 years old. Inspired by several musician family members, Janie's first profession performance was playing for the Mayor of Brockton John Sullivan in 1972. Her uncle was floored that his niece, a nine year old made more money in 2 minutes of playing marches with 2 trumpeters than he did in a 3 hour night of playing drums in a  local bar.
Janie began music lessons on piano at the age of 8. She had an ear for picking out melody lines on piano while listening to her parents vinyl record collections. Artists such as; Three Dog Night, Creedence Clearwater Revival to Herb Albert and The Tijuana Brass.  The piano teacher wanted Janie to study Johann Sebastian Bach. But Janie had different ideas with no interest in that. She wanted to play the really cool stuff you heard on the AM Radio. Yeah, that didn't go over well in those days. So she quit her piano lessons. Her Mom realized that her daughter's natural talent in music should not go unseen or unheard. Little hints like, sitting in a local pharmacy waiting for prescriptions to be filled, Janie managed to turn the vitamin bottles displayed on a shelf into a full blown out one person percussion ensemble. Tapping away on different size bottles, creating various sounds that actually got the attention of the pharmacist and customers as they stared with astonishment. You would think her Mom would be embarrassed with everyone watching her child causing a ruckus in the vitamin aisle. No she was not. She was impressed. Right then and there she knew Janie should be taking drum lessons.   
Janie studied drums with Dick Johnson for 6 years and then continued her studies with  Roland Valliere of the New England Conservatory for 4 years while attending high school. Janie became so proficient in drums and music theory that she was performing in professional orchestra pits for musical  and dinner theatre groups while drumming in the Brockton High School Marching, Concert, and Jazz Bands.
Then Berklee College Of Music was calling out to her. As a major in Performance at Berklee, her studies were put on hold. Janie began touring with an all female pop band called "The Cover Girls." Traveling all over New England and the East Coast sharing the stage with musical acts like The Stompers and The Fools. The 80's proved to be a blur. Janie continued to perform in various traveling general business bands (aka GB bands) and met several famous musicians along the way making her journey very memorable.
It was time for Janie to settle down a bit and start a family of her own at the age of 29. This turned into a 20 year hiatus of performing live on the drums. But she did not neglect her talents in teaching during this time. Janie utilized her Early Childhood studies from Massasoit Community College by becoming a Music & Drama Educator for Center Stage Performing Arts School in Easton for 2 years. After the school dissolved, she then moved on to Maplewood Day Camp in Easton for another 2 years as their Music & Drama  Summer Camp Specialist. In 1997 Janie was hired by The Children's Museum in Easton as their Music & Drama Educator. During her 12 year stint, Janie developed and taught enrichment music programs as well as various summer camps and special events. Her programs were sought out and filled quickly with waiting lists. These programs were so successful, The Children's Museum would subcontract her to several outreach programs offered to the Boys & Girls Club and YMCA of Brockton. Also, she could be found in the Easton, Sharon, Brockton and Taunton school systems as an enrichment specialist.
Well it was time to get back on live stages for Janie. In 2010 she formed a Green Day Female Fronted Tribute Band called "Green Dame." It wasn't enough for her so an additional project "ThE ChIcKz" was born at the same time. Currently "ThE ChIcKz" have reunited after a 5 year hiatus with former members; Bassist Marian "Mazzie" Latanision, Lead Vocalist Jody Moore and Guitarist Vee Still. Janie has been playing drums for the Cape Cod based band "Just Like That" for several years. Nowadays, you can find her and Just Like That in popular Cape Cod venues, performing at outdoor concerts, on Hyline Live Music Cruises and the Barnstable County Fair.