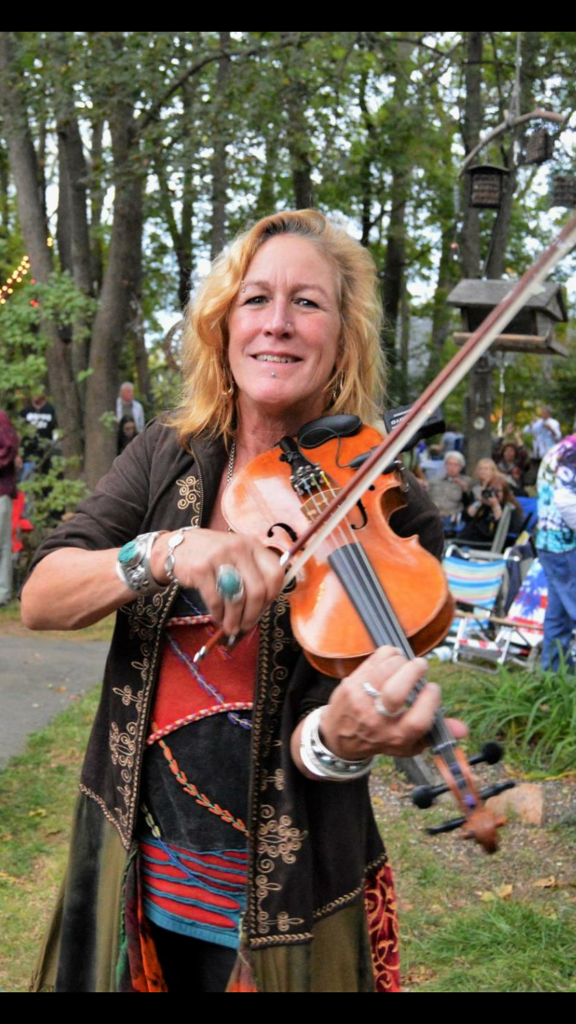 Faith was born and raised in St. Louis MO. Her father (Lutheran Minister) and her mother (Nurse) were both musical as well. Her father played the piano and trumpet and her mother the piano. It was understood that you started piano at the age of 6 and your second instrument at 9. It was expected that you practiced each instrument every day for a half hour and if by chance you missed a day you were expected to practice double the next. Faith does not remember ever missing a day as the love of music was that strong for her. When it came time to choose a second instrument she chose the trumpet. Unfortunately in that era it was not a "girl" instrument so she was informed that she could choose either the violin or flute. Since her sister already played the flute she chose the violin. With 2 younger brothers and an older sister there was always music being played in the house. They had their own family ensemble and often played at church and other local events.
In High School Faith had the fortune of playing viola in the St. Louis Symphony youth orchestra under the conductorship of Gerhardt Zimmerman a world renowned conductor. In 1976 the orchestra represented the United States in a World Music Festival. Their first performance was in the Vienna Concert Hall in Austria. The Symphony went on to perform in Germany, Switzerland and Italy. It was truly a remarkable experience.
After H.S. Faith went on to study music at the University of Iowa where she discovered another love the field of Psychology. From Iowa she took a year off and then continued her education at Antioch College in Yellowsprings Ohio. Following her studies she took on a position at a residential program for Autistic Adolescents in Hingham MA and has continued her work in the field to this day.
Faith's music never took a back seat in her life and when she moved to Brockton MA she became principal second in the Symphony under the conductorship of Francisco Noya who conducted not only the Brockton Symphony but also the Spain Philharmonic. Francisco introduced her to the Longwood Symphony as well as other local symphonies where she had the opportunity to do ringer work.
In 1997 Faith began teaching at Central Music in Brockton and The Music Machine in Easton eventually venturing out on her own and continues to teach to this day. This experience piqued her interest in playing nontraditional music. She began with hanging out at Blues jams and eventually played electric violin in The Mark Pollock Band. She did extensive recording work and continues to play electric violin in a variety of venues to this day. Her styles include Classical, Blues, Rock, Jazz, Celtic, Country and Cape Verdian.
In 2013 Faith had the fortune of playing in the pit for a Modern Dance Company. The theme of the piece took place in India. After rehearsing for a year and a half they performed at the Tsai Theatre in Boston. In attendance was the U.S. Ambassador to India and other foreign Dignitaries. They vowed to bring the performance to India. In December of 2014 the Indian Cultural Council paid all expenses to bring the troupe and musicians to India where they performed in New Delhi, Japur and Chennai. It was one of the most amazing experiences that Faith can remember to this day.